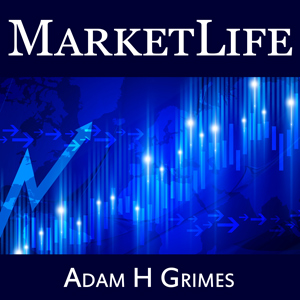 In this episode of MarketLife, we look at some of the things (markets or instruments) that people trade. (In the introduction to the podcast I said we'd get through more than we actually did. The second part will be in the next episode.) In this episode, you will learn about:
Markets for trading and investing (Part 1)
Stocks

stocks are partial ownership of a company
There are many stocks traded
We can divide by country, sector, industry, marketcap
Issues with trading or investing: dividends, corporate actions, can be hard to short
Information is readily available
What can move a stock? News, dividends, anticipated takeover, competitor advance, upgrade/downgrade

Futures

Size and built-in leverage can be a problem for smaller accounts
In many cases, you are trading against insiders!
Information can be hard to find or be very expensive
Expiration/delivery can be a problem
Meditation
Here is the link to the meditation course I discussed in the podcast. This is appropriate for everyone from beginners to experienced meditators, so check it out today!
Enjoy the show: