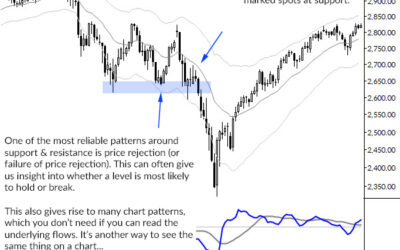 A few days ago, I published a series of charts on Twitter throughout the day. (You should already be following me on Twitter!) These were intended to be quick-hit, one-off lessons contained in a single chart, and I thought it might be useful to republish them here so...
One of the very positive advances over the past decade is the amount of attention focused on cognitive biases. We are, through the work of some gifted authors and speakers, becoming aware of how easily our brains misfire and cause us to make mistakes. The list of...
This is a continuation of the little mini-series on getting started in technical analysis. Today I want to talk about the mindset and goals of a successful trader. This is something I wished I had known much earlier when I started trading. Where we start Most of us...
Most of my readers know about the Art and Science of Trading course, but, if you don't, it's just about the best education in technical analysis that's available, and it really is completely free. (If you haven't seen it, you should go check it out.) For at least a...
The secret to success is no secret at all—it's right there in the open, for everyone to see. To achieve greatness in any field you have to do the right things, work very hard, and sacrifice. As I'm typing this, I have a band-aid on my left little find, and it's pretty...