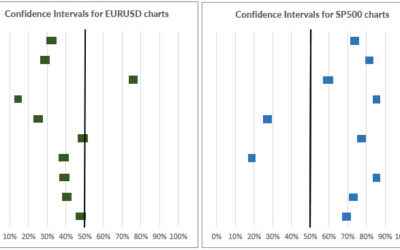 This is part 2 of a two part blog. Read the first part here. Quick summary: to test the validity of price levels in markets, we created a test in which we showed a bunch (1,535) of traders 20 panels of charts. Each panel included two charts which were essentially the...
Here's a bit of a stream of consciousness post in response to today's (5/13) market movements. First, these types of moves are often called 'risk off' moves because we see nearly one-sided trading in different assets—people rush to sell assets that are perceived as...
This might be a more challenging blog post than most, but if you're interested in really understanding price action I think it's very important. Over the past several weeks I've been doing some deep dive coding and quant work. (Stuff like looking at correlation and...
Here's a quick look at two concepts that should be a part of your chartreading: ranges with pressure, and measured moves. There are two common approaches to chartreading, and I think both can be improved upon. One is to look at "big" patterns spanning many bars (think...
It's great when all stars align and every signal tells you to do the same thing. That's the idea behind multiple timeframe analysis (which, by the way, is a topic that should be more controversial!)… imagine the profits that can result when forces on different...