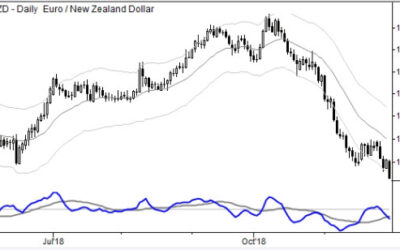 A week ago, I pointed out trade setups in NZDUSD and many NZD crosses to my MarketLife and Talon clients. Of course, one issue currency traders need to consider is correlated risk; if you take a bunch of trades driven by one particular currency (even if that currency...
Take a look at the chart above. Notice three things near the right edge of the chart: An intermediate term moving average is flat Price is never moving far from the moving average Price is chopping back and forth on both sides of the moving average These are three...
This weekend, a reader, Paul, asked: In my limited understanding, Rsi, cci and % r are all basically trying to show the same thing When is one better than the other or what are the subtle differences? Add stochastics to the discussion We had some discussion around...
As we round the corner into the Thanksgiving holiday, I thought I would share another piece of my old writing. I recently found this paper as I was searching through old documents; it was my first attempt to really crystallize my pattern testing and research into an...
[Here's a guest post from a great system developer, honest guy, and my friend Kevin Davey. He beat me to the punch with an article on option selling/writing premium. Tom and I periodically revisit this concept to see if we are missing some way to package selling...